Buying an Android TV Box as well as buying any other high-tech device is not an easy decision.
The many different models that are coming to the market also bring with it the many different prices and features that some Android TV Boxes have to offer.
So how do you know what is the best Android TV Box in 2022?
Best Android TV Box 2022 for every budget
All you can check on the spot are Android TV Box specifications that conscientious manufacturers place prominently on the packaging boxes of the device.
Of course, sometimes those specifications are of dubious accuracy, so you still need to get informed about the Android TV Box.
We can facilitate your decision by providing you with purchasing guidelines and relevant information.
Processor
Android TV Box processors are mostly manufactured by three major manufacturers, but we can say right away that two of them are unreliable and our advice is to get around them in a wide arc.
These are the Android TV Box processors from RockChip and Allwinner manufacturers. Allwinner promised great specifications and capabilities at the big door and almost never fulfilled something like that.
The much-promised strength of the Tronsmart Draco eventually proved to be a major fiasco and the biggest disappointment of the year. As for RockChip, it all looks great at first.
However, while it does have great video playback, they need their own specialized version of Kodi to call it RockChip Media Center.
We think RockChip engineers and designers are facing some bigger goals and are not paying attention to the needs and support of the current processor that people are buying today.
And in the end, one remains reliable. AmLogic is the most popular manufacturer of Android TV box processors and the only one worth buying. This is not just our opinion and everything you read puts AmLogic at the top and our recommendation when choosing a device.
Memory
Memory is what most influences the operating system of a device, including the Android TX Box. It is practically a limit to the maximum amount of RAM you can use, but the old saying "bigger is better" applies in this case as well.
Today's limit of 4GB is not a problem, as your Android TV box will certainly not be able to use more than 4GB. And for that reason, remember that buying a Box with more than 4GB is a waste of money.
Storage
There has been no shift in this area for a long time. More specifically than 2016, little has changed in the storage space of the Android TV Box. Although NVIDIA Shield TV is an exception to its 500GB of storage, today's Boxes offer 8.16 and 32GB of storage.
And the question arises – why is that so? Cost is the answer to this question. Although NVIDIA Shield TV offers 500GB of storage, remember that it is an HDD hard drive, not flash memory. Others have decided to appeal to streaming users, reducing the unnecessary cost for more storage.
Simply put, streaming users track what they want in real-time and rarely store it on their device. That's why the 8GB of storage is enough for Android TV Boxes to install all the necessary streaming software. And then there is some middle ground.
If you are not an avid gamer, take a device with 16GB of storage and we think it will meet all your needs.
Wi-Fi
Of course, this is a very important segment in the offer of Android TV Box. It is very important how and at what speed you are connected to the Internet. Because if you don't have a minimum of 802.11, you will often look into the loading circle that rotates on the screen – even before you comfortably watch the video you want.
Depending on your connection, you'll need fast Wi-Fi or Gigabit Ethernet. If you're looking to prove yourself, the feature you need to view 4K images at 60 frames per second is HDMI 2.0. Some Boxes support HDMI 1.4, and with these features, you won't get a fluid image, and the number of frames per second is half as low – 30.
What Else Do You Need To Know About The Android TV Box?
Changing dynamic speed refresh – it's automatic sync of sources and TVs to get the best possible picture. Of course, all this happens automatically without the user having to make some manual adjustments.
LCD screens may look washed out because of the way they display the image on the screen. HDR fixes it all and makes for the depth of color all the good that 4K has done with resolution.
Conclusion
There are simply too many Android boxes on the market to simply tell what is the best Android TV box in 2022 – we're talking a few hundred models – but we can certainly give you some general guidelines to choose from.
First and foremost, look at the chip name (SoC) and the amount of RAM. Given today's video file requirements, target devices that are equipped with an Amlogic S905X2 chip and have at least 3GB of RAM (2GB is still tolerable and 1GB is too small). Make sure that the amount of storage memory is 32 GB or 64 GB.
To find Android boxes that meet these criteria, it will be enough to type "S905X2" into the AliExpress search engine – you will be presented with numerous models that have exactly this combination of specifications, ranging in price from about $ 35 to about $ 100. Models with Amlogic's SoC S912 are also a good choice.
Some Rockchip's SoCs also scores top reviews in testing, such as the RK3399, but experience has shown that, just like AllWinner's, Rockchip's hardware knows how to have trouble playing very demanding videos (4K HDR, 10-bit) HEVC), so we don't recommend it in principle. Particularly one should shy away from older Rockchip and AllWinner SoCs, like the RK3328.
When you narrow down your selection to a number of models with the chip, RAM, and storage space that meet the above criteria, you have to study the connector offer (most notably the number of USBs and the presence of optical audio output, if you need).
In case your home Wi-Fi isn't particularly fast and reliable, make sure you buy an Android box with a built-in classic, wired network card. You don't need a gigabit LAN – you'll be able to stream all content from online video services over 100 megabytes.
Finally, if it's important to you that the selected Android box can stream video from Netflix and similar services in Full HD, investigate whether it supports Widevine L1 DRM certification.
However, if you want to watch Netflix videos in 4K resolution, then the choice comes down to just a few models, such as Xiaomi's Mi Box, Mi Box S and Nvidia's Shield TV, with the latter being the best and most expensive Android box world currently has to offer.
What's more, if you don't want to spend time researching and figuring out how to optimally choose the Android box, the whole story can be summed up like this – if you want a great device, with the best value for money, and support for whatever you might need, buy the Xiaomi Mi Box S (about $50). If you're looking for the ultimate in polarity and functionality in this class of device, Nvidia Shield TV (around $450) is what you're looking for.
The 5 Best Android TV Boxes In 2022
Nvidia Shield TV Gaming Edition –

4K HDR Streaming Media Player with GeForce NOW
Nvidia Shield TV Specifications
Chip: Tegra X1 (4 cores)
RAM/Memory: 3GB DDR3/16GB
Max. resolution: 4K @ 60 FPS (HDR10)
Sound: DTS-X, Dolby Atmos
Network: LAN (10/100/1000), Wi-Fi (802.11ac), Bluetooth 4.1
Connectors: HDMI 2.0b, 2x USB 3.0
Widevine L1 DRM: Yes
Software: Android TV 8.0 Oreo
Nvidia Shield TV is by far the most powerful hardware, the most polished and generally the absolute best Android box money can buy.
This device behaves exactly as you would expect: all video services operate at the highest resolutions available, are wired and wireless networked, come with excellent remote control, regularly upgrade software, have two USB 3.0 ports, and have integrated Chromecast, so it the functionality extends to all that Google's famous gadget allows.
An added benefit is that it is powerful enough that it can be used to smoothly play all titles for Android, as well as those that we run through GameStream. GameStream is a solution that allows the game to run on our computer, which must be equipped with Nvidia's graphics card and streamed to the Shield via a home network and played from the couch on the TV, with an experience as close as we would to a computer. Drawbacks? So far, it does not support Dolby Vision, the increasingly widespread standard for HDR, but only the less advanced HDR10.
Read Next – Best Curved Samsung TV Of Different Sizes
Xiaomi Mi Box S
Xiaomi Mi Box S Specs
Chip: Amlogic S905X (4 cores)
RAM/Memory: 2GB DDR3 / 8GB
Max. resolution: 4K @ 60 FPS (HDR10)
Sound: DTS 2.0+, Dolby Digital Plus
Network: Wi-Fi (802.11ac), Bluetooth 4.2
Connectors: HDMI 2.0a, 1x USB 2.0, S / PDIF audio output, 3.5mm audio output
Widevine L1 DRM: Yes
Software: Android TV 8.1 Oreo
Xiaomi Mi Box S, known in the Chinese market as the Mi Box 4, definitely has flaws – it has only one USB port and doesn't have a classic, wired network card, so it depends heavily on the performance of home Wi-Fi. However, it differs from most no-name Android boxes in that it comes with a quality remote control, integrated Chromecast (low irritation – to be able to cast, the Mi Box S must first be turned on with the remote), as well as full support for Widevine L1 DRM.
In other words, it will neatly play content from Netflix and all other video services in full 4K resolution. Therefore, it's not just a device that will dutifully play your video and audio content inside Kodi and Plex, but also a full-fledged multimedia streamer, which also doesn't cost too much.
Fire TV Stick 4K
Fire TV Stick 4K

Specifications
Chip: MTK8695+MT7668
RAM/Memory: 1.5GB DDR4/8GB
Max. resolution:

4K Ultra HD, Dolby Vision, HDR, and HDR10+

Sound: Dolby Atmos
Network:802.11 a/b/g/n/ac; 2×2 MIMO (2.4 GHz and 5.0 GHz dual-band), Ethernet10/100Mbs (with external dongle)
Connectors: HDMI 1.4, 1x micro-USB
Widevine L1/L3: Yes
PlayReady 3.0: Yes
HDCP 2.2: Yes
Software: Fire OS 6
The Fire TV Stick supports 4K streaming, and that includes Netflix and Amazon Prime Video. The YouTube app is finally back on all Amazon devices after a year-and-a-half-long feud between Amazon and Google. The operating system for the Fire TV Stick is Fire OS 6.0, which is based on Android 7.1 Nougat. Because of this, there's no access to the Google Play Store, which means you are limited when it comes to apps you can download. You can use the Amazon App Store to choose between 7000+ apps and games.
The 8GB Fire TV Stick comes with an Alexa Voice Remote, which is one of the best things about it: You can use your voice to search for shows or movies to watch, play music, control volume, check the weather, control smart home devices, and so much more. The Fire TV Stick 4K is not exactly a box, it's got the shape of a memory stick, and it plugs straight into your TV through an HDMI port. (To improve Wi-Fi reception, Amazon recommends plugging the stick into an HDMI extender.)
Once that's done, attach the USB cable and run it to the nearest power outlet to get it up and running.  Updates are not complicated either: As long as your device is connected to the Internet, it will search for software updates and install them automatically.
Read Next – Top 5 Best 4k Laptop Buying Guide
Roku Express
Read Next –Best Samsung 4K TV For Better Movie Experience 
Roku Express Specifications
Chip: ARM Cortex A53
RAM/Memory: 512MB
Networking: 802.11 b/g/n single-band wireless
TV Compatibility: HD TVs – Up to 1080p (1920 x 1080) with up-scaling from 720p
Ports: Micro USB for power, HDMI 1.4b
Audio Features: Digital stereo over HDMI®, DTS Digital Surround™ pass through over HDMI, Dolby Audio™ and Dolby ATMOS® pass through over HDMI
Remote Control: Roku standard IR remote with channel shortcut buttons – Streaming player includes IR receiver (compatible with various universal remotes)
Power Consumption: Less than 2.2W (typical) when streaming
Power Input: 5V – 1A
Size: 1.5 x 0.75 x 3.0 inches
Weight: 1.1 ounces
Enjoy smooth HD streaming on your TV at our best price. It's easy to get started with the included High-Speed HDMI® Cable. With access to hundreds of free channels, there's plenty to stream without spending extra. Compact and power-packed, you'll stream your favorites with ease. From movies and series on Netflix and Prime Video, to free alternatives like All 4 and Pluto TV, enjoy the most talked about TV across free and paid channels.
Roku Express includes a High-Speed HDMI® Cable and simple remote. There's no monthly equipment fee, no contracts, and the unbiased search makes it easy to find entertainment for free or at the lowest cost.
Setup is a cinch: Plug it in, connect to the internet, and start streaming. It's that simple.
Simple remote: Incredibly easy to use, this remote features shortcut buttons to popular streaming channels.
Automatic software updates: Get the most up-to-date software without even thinking about it.
Private listening on mobile: Use the free Roku mobile app to pump up the volume on your shows without disturbing the house.
Free Roku Mobile App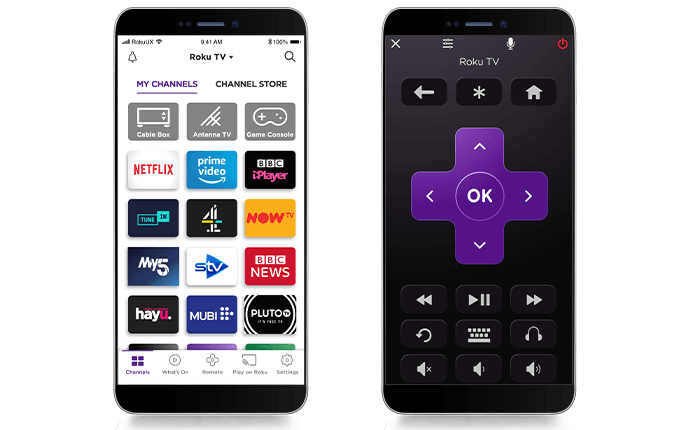 Turn your iOS® or Android™ device into the ultimate streaming companion. Control your Roku player, search with your keyboard, plus enjoy features like:
Voice search
Just say it to search by title, actor, or director across 1,000+ channels.
Private listening
Use headphones to listen as loud as you want without disturbing the house.
Cast to TV
See your photos, videos, and music up on your big screen.
Fire TV Cube
Read Next – QLED Smart TV for Movies in 2022
Fire TV Cube Specifications
Processor: ARM Mali G52-MP2 Hexa-core @ up to 2.2 GHz
Operating System: Fire OS 7 based on Android 9.0 Pie
Internal Storage: 16 GB
Memory: 2 GB
Supported Resolution: Up to 4K Ultra HD at 60 fps
WiFi Connectivity: Dual-Band 802.11ac 2×2 MIMO /td>
Ethernet: 10/100 Mbs
H.265 Video Decoding: Yes
5.1 Audio Passthrough: Yes & 7.1
Expandable storage: Over Micro USB
USB: Micro USB
HDMI: 1 x 1.4
The 2019 Fire TV Cube is running on Fire OS 7, which is based on Android 9 Pie. The interface is pretty intuitive to use, and the home screen offers quick access to TV shows and movies you have recently watched, even if they're not available on Amazon Prime Video. You can also make your own Watchlist of shows and movies you want to watch across different platforms.
The Fire TV Cube heavily promotes Prime Video content, which can be annoying for some users. The interface also features large banners on the home screen, cluttering it up and making it a bit too messy.
The device comes with 4K streaming on supported platforms like Netflix, Vudu, Amazon Prime Video, and more. The YouTube app has been back on all Amazon devices since July, and the 2019 Cube now comes with support for YouTube TV. It can also run media servers like Kodi and Plex. The second-generation device has an ultra-powerful Hexa-core processor (with speeds up to 2.2GHz) compared to the 1.5 GHz Quad-core one on the original Fire TV Cube.
The new processor can stream 4K UHD and Dolby Vision content at up to 60 fps. At the back of the new Cube are an HDMI port, power, a Micro USB port for the Ethernet adapter, and an input for the IR extender (both included).
It comes with a thin IR extender cord for devices that are out of sight, but it doesn't include an HDMI cable necessary for set-up. The best feature of the 2019 Fire TV Cube is its built-in speaker with eight far-field microphones that allows you to give voice commands without using the remote.
The Cube is basically an Amazon Echo device that lets you control your smart home devices over Wi-Fi and home theatre equipment directly over its IR emitters with just your voice. Some basic voice commands are executed much faster than before, thanks to the Cube handling them directly instead of going through Amazon's servers. Most still lag, though, as the Cube needs to check with the cloud for a lot of the commands.
Read Next – Top Roku TV Hisense To Buy In 2022