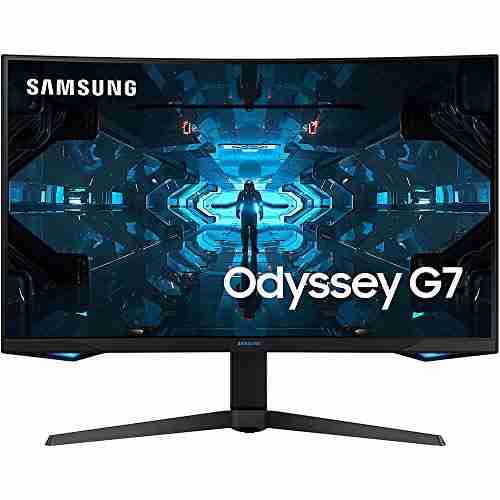 Samsung has unveiled its new gaming monitor, the Odyssey G7. The device features a high-quality 2560×1440 resolution with a rapid 240Hz refresh rate and 1ms response time.
As well as being curved to match the natural curvature of the human eye, it also includes Infinity Core Lighting, which is designed for an immersive experience when playing games in dark environments. 
28″ Odyssey 4K UHD LED Gaming Monitor 
Along with these specifications, this monitor also contains cutting-edge QLED technology from Samsung that ensures pixel-perfect picture quality with every frame.
DESIGN
The G7 includes a sleek, stylish design that will match any room you have it in.
Although this is a large monitor, its frame still stands at an impressive 1.89 inches wide, allowing a beautiful-looking device to be displayed on your desk.
The screen itself doesn't take up too much space either, as it has been designed to fit within the standard 16:9 aspect ratio of other modern screens and televisions.
Another stand-out feature of this device is its rotation of 90 degrees to quickly adjust from landscape orientation to portrait, allowing for high-quality viewing from all angles.
PERFORMANCE
Although this is a high-quality monitor, it is designed primarily for quality gaming.
The rapid 240hz refresh rate and rapid 1ms response time ensure that your gameplay is always running at its best and never cut short by lagging monitors or screens.
The ultra-high resolution of 2560x1440p ensures that you can see every detail on the screen and gives you the competitive edge in games such as Counter-Strike: Global Offensive, Overwatch, Dota 2, and League Of Legends, to provide just a few examples.
Read Next – Best Samsung Monitors Buying Guide
COLOUR CURATION & CUTTING EDGE TECHNOLOGY
Samsung has made no compromises with its display qualities as this monitor includes cutting-edge QLED technology from Samsung.
In addition, Infinity Core Lighting creates an immersive experience when playing games in dark environments, and the curved screen gives gamers a more comfortable viewing experience.
The monitor also includes AMD FreeSync technology which means that your gameplay is always running smoothly and never interrupted by lagging or stuttering screens.
Since the monitor is fitted with an IPS panel, this makes this display somewhat unique. However, for most gamers, the refresh rate of 240Hz will be perfect for competitive market gaming or where response time isn't so crucial.
Since it's also sporting AMD's Freesync technology and NVIDIA's G-Sync compatibility, market competitive gamers can take advantage of both technologies depending on their graphics card preferences.
Read Next – Best Samsung 4K TV For Better Movie Experience 
DESIGNED FOR WINDOWS 10
This monitor has been designed with Windows 10 in mind meaning it will work flawlessly on this platform and include exclusive features such as Cortana, Game Bar, and easy multitasking between applications using Picture-in-Picture (PiP) and Picture-by-Picture (PbP).
The monitor also includes a built-in high-performance headphone amplifier ensuring you can hear every detail of your games even when playing alone.
Read Next – Best Hp Monitors Our Top Picks
SAMSUNG Odyssey G7 Series 27-Inch WQHD (2560x1440) Gaming Monitor, 240Hz, Curved, 1ms, HDMI, G-Sync, FreeSync Premium Pro (LC27G75TQSNXZA)
21 new from $639.99
6 used from $522.00
Free shipping
as of November 18, 2021 1:30 pm
SAMSUNG 32" Odyssey G5 Gaming Monitor, WQHD (2560x1440), 144Hz, Curved, 1ms, HDMI, Display Port, AMD FreeSync Premium, HDR10, LC32G55TQWNXZA, Black
12 new from $349.99
6 used from $273.41
Free shipping
as of November 18, 2021 1:30 pm
SAMSUNG 49-inch Odyssey G9 Gaming Monitor | QHD, 240hz, 1000R Curved, QLED, NVIDIA G-SYNC & FreeSync | LC49G95TSSNXZA Model
14 new from $1,399.00
6 used from $1,165.63
Free shipping
as of November 18, 2021 1:30 pm
SAMSUNG 27-Inch CRG5 240Hz Curved Gaming Monitor (LC27RG50FQNXZA) – Computer Monitor, 1920 x 1080p Resolution, 4ms Response Time, G-Sync Compatible, HDMI,Black
28 new from $316.99
5 used from $269.00
Free shipping
as of November 18, 2021 1:30 pm
SAMSUNG Odyssey G7 Series 32-Inch WQHD (2560x1440) Gaming Monitor, 240Hz, Curved, 1ms, HDMI, G-Sync, FreeSync Premium Pro (LC32G75TQSNXZA)
22 new from $737.00
2 used from $625.59

as of November 18, 2021 1:30 pm
SAMSUNG 27-inch Odyssey G7 - QHD 1000R Curved Gaming Monitor, Black, 32""" (LC32G77TQSNXZA)
3 new from $1,149.00
3 used from $713.91
Free shipping
as of November 18, 2021 1:30 pm
SAMSUNG 27-inch Odyssey G7 - QHD 1000R Curved Gaming Monitor, red (LC27G77TQSNXZA)
2 new from $799.99
2 used from $599.00
Free shipping
as of November 18, 2021 1:30 pm