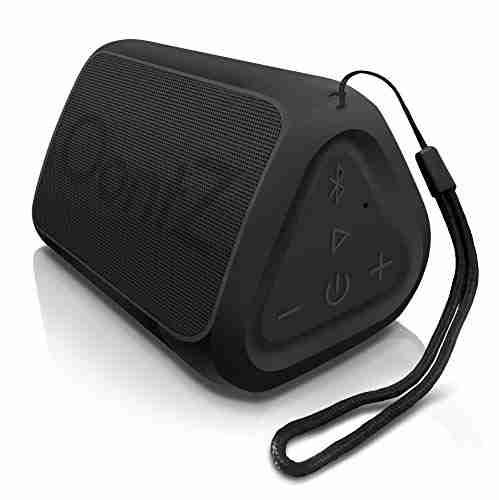 Bluetooth speakers are a great way to enjoy your favorite tunes.
They can be used as an alternative to headphones, or you can sync them with another speaker, so the music travels throughout your house!
In this blog post, we will provide some information on what to look for in a Bluetooth speaker and how to find one that's right for you.
10 Best Bluetooth Speakers in 2022
What are the factors that specifically matter when choosing a Bluetooth speaker?
Battery
Battery life is essential if you want uninterrupted playback while on the go.
If the battery only lasts 6 hours continuously at total volume, but most similar speakers last ten or more, then go with those unless portability or aesthetics is more critical than battery life.
AptX support is also good to have, although not necessary.
Space
If you plan to use your speaker in a single room, it should be loud enough for that space.
Most speakers start distorting or sounding bad when pushed beyond 80-90% volume levels, so if you don't want the sound quality to take a hit, stay below max volume when testing how loud it can get.
Also, remember that many speakers will distort at higher volumes because they are tuned, so only use caution when thinking how loud one speaker gets compared to another.
Read Next – Best Bluetooth External Hard Drives Our Top Picks
Budget
How much money are you willing to spend?
The price range of Bluetooth speakers goes from $50 up to $300.
If you're ready to pay around the 100$ mark, then many good options are available.
The JBL Flip 3 (100$) and G-Project G-Boom (90$) are trendy choices in this price range that offer excellent sound quality and battery life.
Size
Are you willing to carry around a speaker that's larger than your phone? If yes, then how important is how it looks while being carried?
Of course, everything has its limits, so moving around 10-inch tall speakers might be challenging for some people.
On the other hand, these usually have the best battery life compared to other speakers since their batteries need to power much more significant drivers.
They also sound noticeably better than smaller speakers because of how big they are, but if portability is more important, it's best to go for something less than 500 grams.
Some other features
Which additional features are you looking for? Bluetooth speakers come with an array of different elements like how much bass they provide, how clear the vocals sound, how they handle treble frequencies, and so on.
One speaker has slightly more volume than another but has a noticeable lack of clarity in high frequencies or how it distorts at high volume levels.
Choose the former even if it doesn't get as loud because transparency is more important than volume when you're not trying to blast everything around you.
Sound quality
Which option sounds better overall? If all options have flaws, how does each sound once you start playing different types of music on them?
For example, some speakers could handle rock music well while sounding average with hip-hop and vice versa, so choose based on how it takes any genre of your choice.
Also, check how good the bass sounds, as this can make or break the experience depending on the music being played back.
Portability
How portable do you need the Pleaser Bluetooth speaker to be?
If portability is more important than anything else, how much is how heavy and how big the speaker is compared to how loud it gets.
A smaller portable speaker will have a shorter battery life but a slimmer form-fac
Read Next – 5 Best Smart Speaker With Clock And Alexa
Conclusion
When buying Bluetooth speakers, think about how important each aspect is to your overall needs and then pick accordingly from the options available in the market.
Of course, there are no perfect choices, so try thinking about which features matter the most to you.
Read Next – Are Bluetooth Headphones Good for Recording
OontZ Angle Solo - Bluetooth Portable Speaker, Compact Size, Surprisingly Loud Volume & Bass, 100 Foot Wireless Range, IPX5, Perfect Travel Speaker, Bluetooth Speakers by Cambridge Sound Works (Black)
2 new from $19.99
5 used from $19.32
Free shipping
as of September 27, 2023 9:04 pm
OontZ Angle 3 Bluetooth Portable Speaker, Louder Volume, Crystal Clear Stereo Sound, Rich Bass, 100 Foot Wireless Range, Microphone, IPX5, Bluetooth Speakers (Black)
2 used from $34.95
Free shipping
as of September 27, 2023 9:04 pm
JBL Flip 4 Waterproof Portable Bluetooth Speaker - Grey
out of stock
as of September 27, 2023 9:04 pm
JBL FLIP 5, Waterproof Portable Bluetooth Speaker, Squad (New Model)
6 new from $89.95
3 used from $85.99
Free shipping
as of September 27, 2023 9:04 pm
JBL Boombox 2 - Portable Bluetooth Speaker, Powerful Sound and Monstrous Bass, IPX7 Waterproof, 24 Hours of Playtime, Powerbank, JBL PartyBoost for Speaker Pairing, Speaker for Home and Outdoor(Black)
3 new from $399.95
2 used from $309.99
Free shipping
as of September 27, 2023 9:04 pm
60W (80W Peak) Portable Bluetooth Speaker with Double Subwoofer Heavy Bass, Bluetooth 5.0 Wireless 100ft Outdoor Speaker, Support FM Radio, LED Colorful Lights, Stereo Sound, for Home, Party, Travel
2 new from $69.98
3 used from $39.98
Free shipping
as of September 27, 2023 9:04 pm
JBL Clip 4: Portable Speaker with Bluetooth, Built-in Battery, Waterproof and Dustproof Feature - Black (JBLCLIP4BLKAM)
16 new from $79.95
14 used from $49.00
Free shipping
as of September 27, 2023 9:04 pm
Bluetooth Speaker, Tribit XSound Go Speaker with 16W Loud Sound & Deeper Bass, 24H Playtime, IPX7 Waterproof, Bluetooth 5.0 TWS Pairing Portable Wireless Speaker for Home, Outdoor (Upgraded)
3 new from $29.59
1 used from $29.29
Free shipping
as of September 27, 2023 9:04 pm
JBL CHARGE 5 - Portable Bluetooth Speaker with IP67 Waterproof and USB Charge out - Black
13 new from $179.95
11 used from $97.71
Free shipping
as of September 27, 2023 9:04 pm
JBL PartyBox 300 - High Power Portable Wireless Bluetooth Party Speaker
out of stock
as of September 27, 2023 9:04 pm
Bose SoundLink Micro: Small Portable Bluetooth Speaker (Waterproof), Black
3 new from $119.00
8 used from $85.07
Free shipping
as of September 27, 2023 9:04 pm
Read Next – Best Laptops For X Plane